President's Message
Dear website visitors,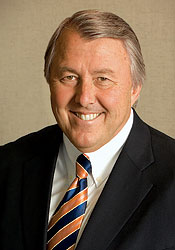 Welcome. I hope your visit to our website helps you come to know Pepperdine University -- Seaver College and our four professional graduate schools.
Though this message is written for our website, I sincerely welcome the opportunity of meeting and visiting with you at some point in the future. If we did, I would want to talk with you about this remarkable place -- a place of physical beauty nestled in the Santa Monica Mountains, overlooking the Pacific Ocean.
I would want to talk to you about what has gone before and of our many exciting plans for the future. And if we had that opportunity to visit, I would talk to you about our purpose -- about our heritage of faith and what makes this university the unique institution of higher learning that it is. And finally, I would speak to you about the faculty who have come here to teach, the staff who have come here to serve, and the administrators who have come here to lead, all for one reason -- to influence our students' lives for good.
Thank you for visiting our website. I hope you find the information you seek and that it won't be too long until you visit us in person.
Andrew K. Benton
President