Alumni Involvement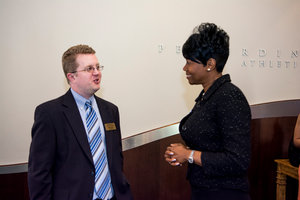 Stay Connected
Share News
The School of Public Policy publishes the Dean's Report bi-annually to share what's happening in the lives of alumni, faculty, and fellows. To share news, please e-mail Christina Ramirez. News can span from a new occupation, a birth in the family, a marriage, or a published article.
What's New With You?
Update address contact information so Pepperdine can keep alumni informed of great social, philanthropic and networking events around the country.
Stay Involved
Attend a local chapter event.
Stay in touch with classmates and professors.
Think "Pepperdine alumni first" when looking for qualified employees.
Serve as a mentor to a student or young alumnus with the Pepperdine Career Network.
Provide internships or opportunities for students to visit with your company on EPPIC.
Join a local Alumni chapter or get involved in an Alumni group.
Stay in Attendance